After 2 years, 5 moths and 26 days, new CS:GO operation has landed. Meet Shattered Web!

On 19/11/2019, Valve has released new operation. We have been waiting over 2 years, but it's finally here. It's big news. We won't talk about new Half Life, just the operation.
New Missions Each Week
You can get a new mission card each week, which will consist of 6 missions. They can be completed in any order. For each completed mission within current card you will receive stars. Each star is a different reward. You can earn stars by completing missions or you can buy stars too. Who would even do that? It's not fun! Missions are well designed and co-op missions are fantastic. Big props to Valve for such an amazing Shattered Web operation format.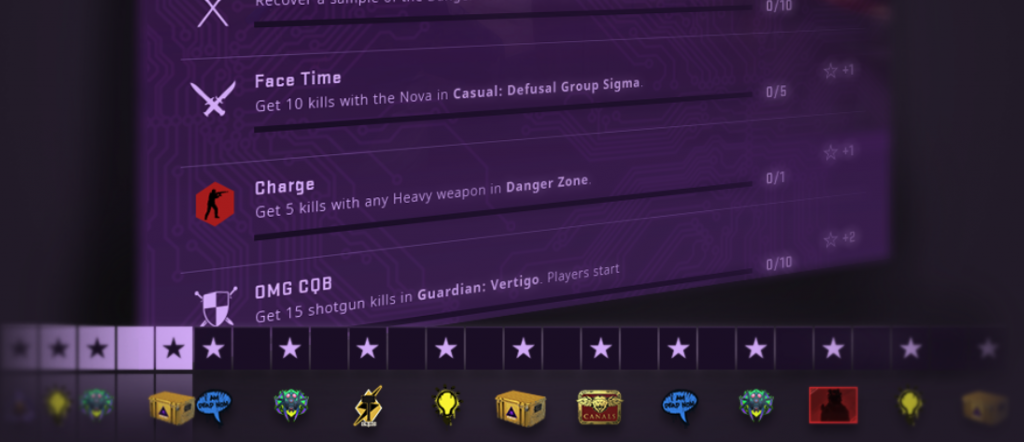 Operation Pass Is Required To Participate
You need an operation pass to get access to Shattered Web. Pass is £12.49 in the UK. You can get the pass in game and on the Steam Market. Pass will enable You to play through 6 different missions each week, will get you brand new Agents, new weapon collections, stickers and graffiti, all of that in new battle pass format.
Getting operation pass will unlock a Shattered Web Coin, which you can grind to Silver (33 missions) Gold (66 missions) and Diamond (100 missions). You can display the Coin on your profile.
You will receive operation rewards like all new agents (Master Agent for level 100), new graffiti, new stickers, Shattered Web weapon cases and random weapons from the three new collections, which we talk about below (54 new unique skins for your loadout).
Remember, you can gift an operation pass, but only after 7 days. There is no way you can gift it straight after purchasing it from in game or Steam Market.
Valve confirmed that the Shattered Web operation will last at least 16 weeks, but we have seen operations last double the time in the past due to popularity. We will see how it pans out.
How To Upgrade Coin And Get Operation Stars?
The operation is a battle pas format. All the rewards available are earned when you get enough stars to reach the nest reward level. For example, if you get to level 20 (20 stars) and the next reward (case drop etc) is available on level 22, you will need another two stars to unlock the case drop. You can also buy more stars on Steam Market.
Getting operation stars is easy. You need to complete missions which consists of 6 missions every week or you can buy extra stars in game. So each week you can get 6 stars. This week Valve made an exception and we can get up to 10 stars, but every next week will reward you a maximum of 6 stars after completing weekly missions (remember, more stars are available on Steam Market if you need them). You don't have to complete ALL the missions as maximum numbers of stars is set to 100, so complete 100 missions to be able to get all the stars required to unlock every reward possible. Everything above 100 missions is just for pure fun and the feel of accomplishment.
Your Shattered Web Coin will be upgrade automatically when reaching 33 completed missions (Silver Coin), 66 completed missions (Gold Coin) and maximum of 100 missions (Diamond Coin). We can assume we are all going for the Diamond as the missions are just fantastic if you like challenges. One of them is to get to opposite team's spawn area and spray graffiti 5 times in their spawn!
Once you get to 100 missions and upgrade your coin do Diamond, you can still get more rewards, just purchase more stars from Steam Market. Seems like not everyone can afford it, so there is that, but 100 missions seems like long time?
Important thing to note regarding new Agents, which are listed in full below. After reaching level 100 of Shattered Web, you will unlock ONE Master Agent. Master Agent has unique cheers and voices and you can equip him in any game mode on any map of your choice.
I Don't Have Operation Pass, What Now?
You can still play the missions! The only thing that you will miss out on are the rewards, including Master Agent for completing 100 missions. You must have a valid operation pass to get all the perks unfortunately, but playing the missions only without rewards is still nice extra content!
Who Are Shattered Web Agents?
Agents, new custom CT and T side models ready to be equipped on any map. To get them, you will need to progress with your missions each week. They are simply a rewards for the missions, so complete your weekly missions and earn stars to get the new, playable agent characters. You can also equip default models for CT and T side and CS:GO will equip the default model for each available map.
There are 22 types of new agents. Let's have a closer look at all of the new, custom models.
Lt. Commander Ricksaw | NSWC SEAL
Master Agent
Ricksaw's comically laissez-faire attitude toward heavy combat keeps his SEAL team calm and deadly in the most dire situations. Having lead more special ops than any other SEAL to date, Ricksaw knows life is short, and encourages his team to make the most of the time they have – including cheerfully serving up bullets and frag grenades to high-value targets at any and all occasions.
"Hotdogs, hellcats and hand grenades. Hooya!"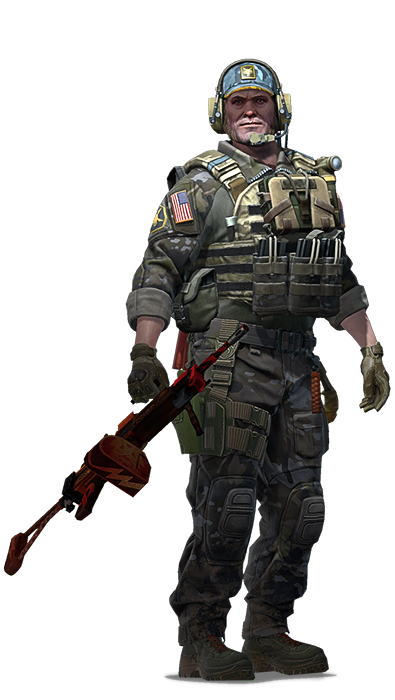 The Elite Mr. Muhlik | Elite Crew
Master Agent
First appeared operating as an "Acquisitions Consultant" for arms industry magnates, Mr. Muhlik quickly worked his way on to many Most Wanted lists worldwide. Unconfirmed reports suggest he is the last surviving heir to a recently deposed Middle Eastern monarch. With evidence of elite military training, international private education, and numerous international bank accounts, it's suspected Mr. Muhlik is maneuvering to rebuild sovereign power over his family's historical lands.
"Pressure and time."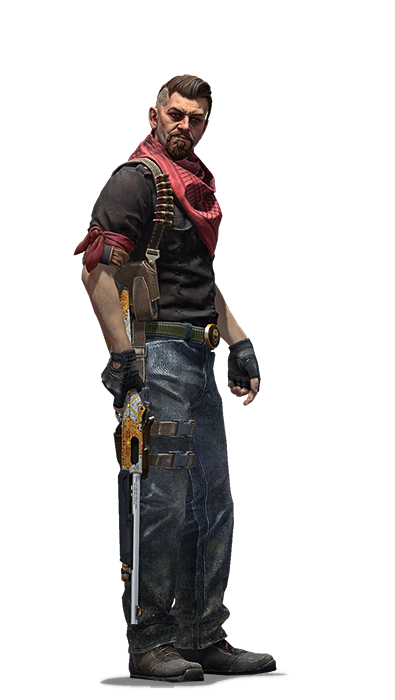 Prof. Shahmat | Elite Crew
Superior Agent
After graduating Magna Cum Laude, Prof. Shahmat began teaching to import knowledge. With every class Shahmat realized his pupils didn't have the same revolutionary desires that he did. Recognizing that his mind was beginning to dull, he decided to seek a new challenge – mastering the art of war.
"Watch and listen."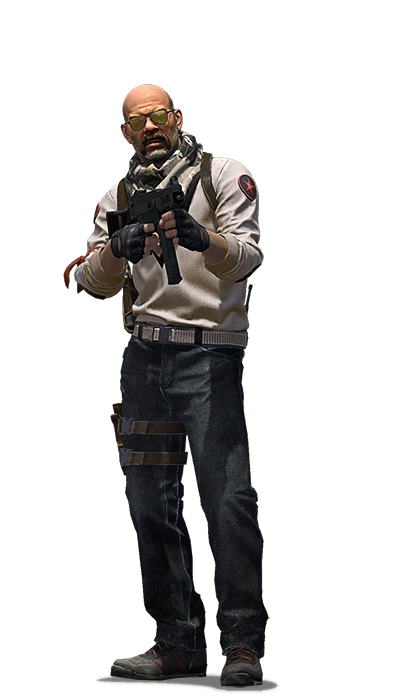 Osiris | Elite Crew
Exceptional Agent
Osiris earned his nickname from passing judgement, often too quickly, on his marks. His reasoning is simple: "When your time is as valuable as mine, why make small talk?" Confident, skilled, and quick to act, Osiris takes pleasure in dispatching targets with unrivaled efficiency.
"Any objections?"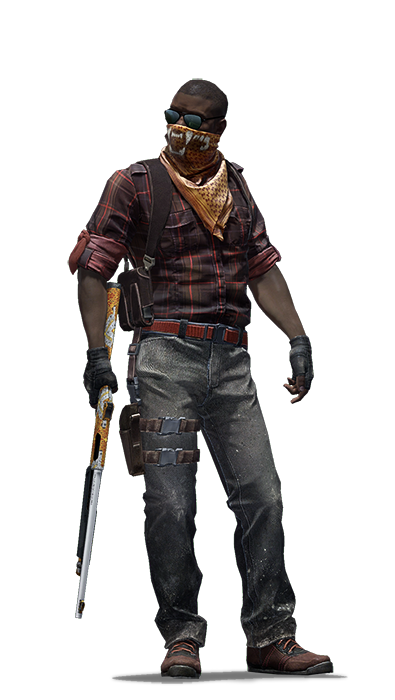 Ground Rebel | Elite Crew
Distinguished Agent
An expert in local knowledge for Elite Crew's urban operations, Ground Rebels are known for keeping an ear to the ground.
"That's the signal."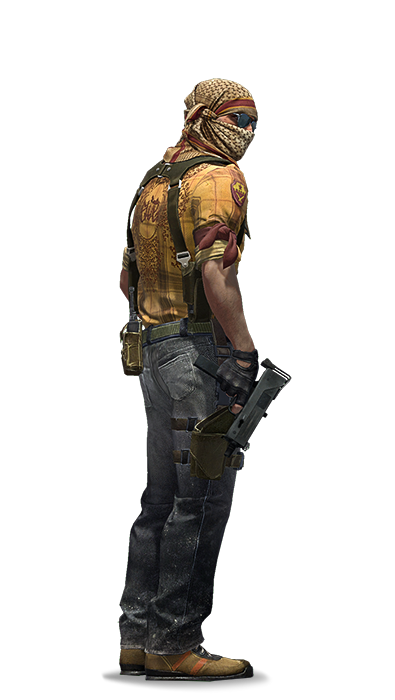 Special Agent Ava | FBI
Master Agent
Initially underestimated, Special Agent Ava soon became her team's ultimate secret weapon. Despite receiving three out of five possible FBI Honorary Medals, Ava is surprisingly indifferent to her accomplishments. The way she sees it, it's nothing compared to growing up with four older brothers in urban New Jersey. Special Agent Ava takes pleasure from the simple things: clean wins, cold beer, and turning bad guys into thin crust pizza pie.
"They see me. They're confused. And then they're dead."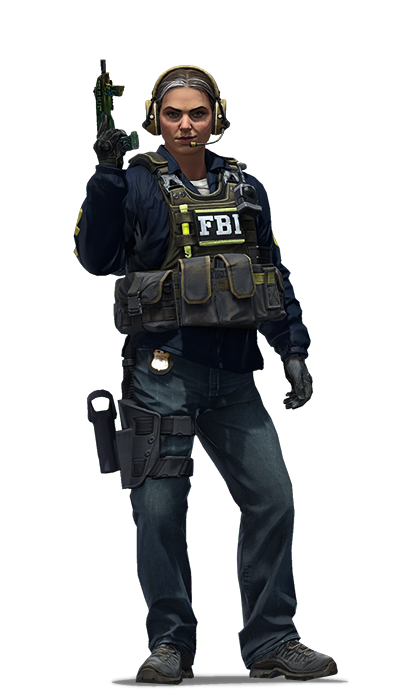 Michael Syfers | FBI Sniper
Superior Agent
An ex-Division 1 athlete, Syfers was recruited by the FBI after a catastrophic knee injury ended his sports career early. Yet even in adversity he remained positive. It's rare to find someone whose desire to succeed is matched by their desire to do good, but Syfers checks both boxes.
"Naturally, I finished my reps."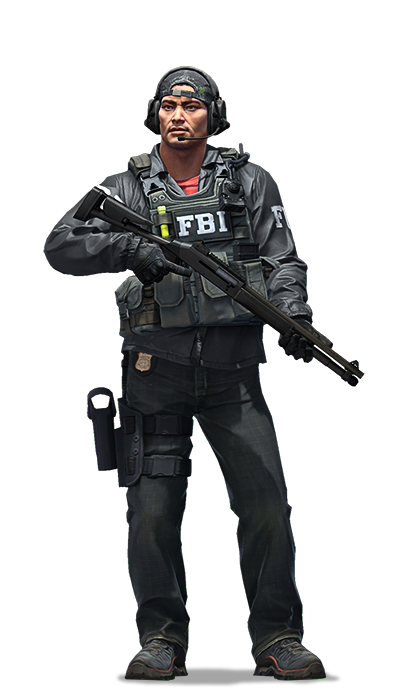 Markus Delrow | FBI HRT
Exceptional Agent
There's no detail too small for Markus Delrow. Equipment, battle plans, oppositional tactics – you name it – and he's already thought of it twice. Being two steps ahead is what he does best, and Delrow takes pride in being the brains of the operation.
"All that's left is to execute."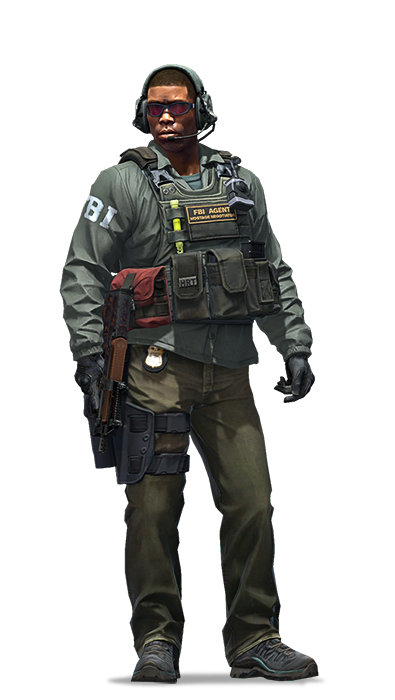 Operator | FBI SWAT
Distinguished Agent
Members of the FBI'S SWAT team are deployed in high risk situations. Counter-terrorism, hostage rescue, and bomb defusals are a few of the many disciplines FBI SWAT agents specialize in.
"Fidelity, Bravery, Integrity."
Maximus | Sabre
Exceptional Agent
Motivated by a simmering inner rape and a lifelong obsession with vengeance for transgressions large, small, and seemingly insignificant, Maximus is Sabre's first choice for close quarter mission support. No grudge is too small to be repaid in blood.
"No, YOU overreacted."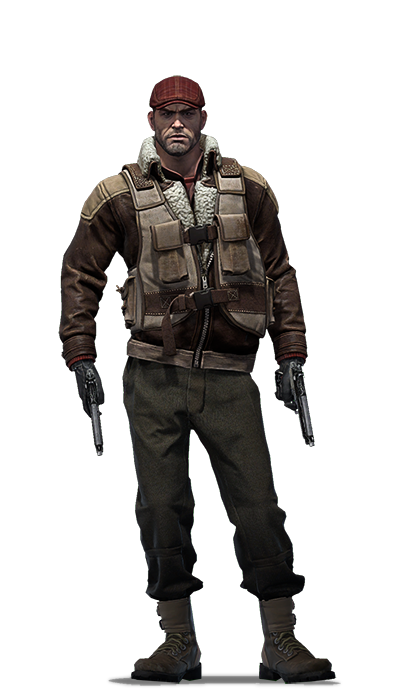 Dragomir | Sabre
Exceptional Agent
A man of few words, Dragomir is disturbingly patient. Known for holding position for days at a time, some say he's one of Sabre's best marksman. Others say he's napping. No one really knows. No one left alive, anyway.
"… I Wait."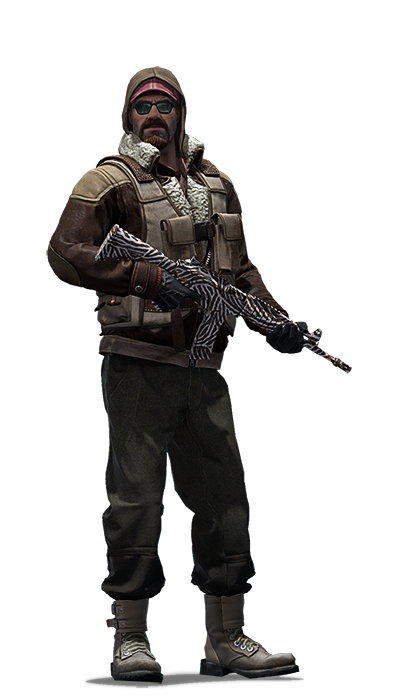 The 'Doctor' Romanov | Sabre
Master Agent
After expertly smuggling pharmaceuticals across disputed borders for over 30 years, the doctor now leads Sabe's Utility Disruption Operations. Rumored to be responsible for the synchronized destruction of several UN power facilities. Romanov is known by his enemies to be calculating, deliberate and frighteningly precise. Of course, his mother says he's just mixed up with the wrong crowd.
"It's simple. We make a plan and the plan is to win."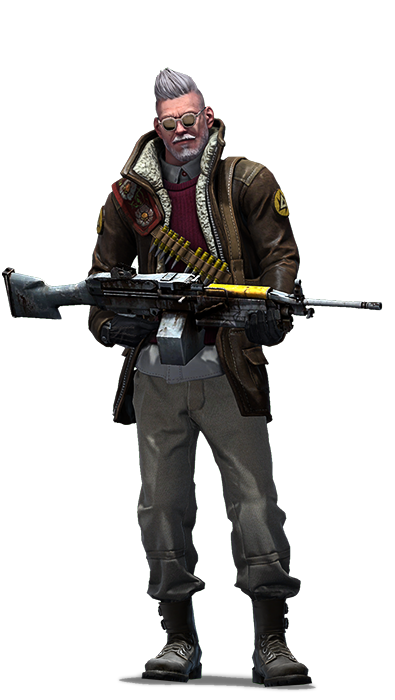 Rezan The Ready | Sabre
Superior Agent
An expert grenadier and the once-celebrated author of The Joy of Preparedness, Rezan is Sabre's self-appointed Head of Operations. His fiery temper when things get out of hand has earned him the alternative nickname Rezan The Red – but never to his face.
"I take great pride in my work."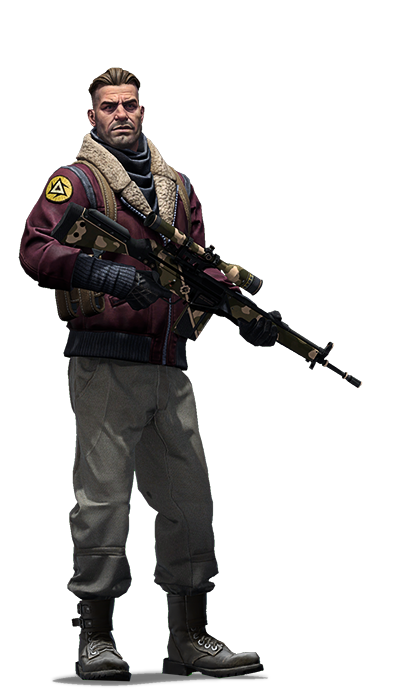 Blackwolf | Sabre
Superior Agent
Blackwolf stalks Sabre's enemies with preternatural determination and focus. Raised deep within the bitter forests of Eastern Europe, he can sense human presence with exceptional accuracy – and he knows what to do when he's sensed it.
"I don't need to see them to kill them."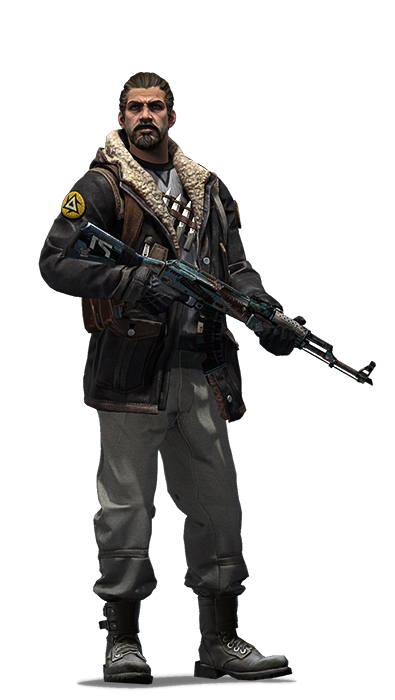 B Squadron Officer | SAS
Distinguished Agent
Highly classified and incredibly lethal, Officers in the SAS spend years sharpening their skills through infiltration, hostage rescue and -REDACTED- missions not fit for the public eye.
"Who dares, wins."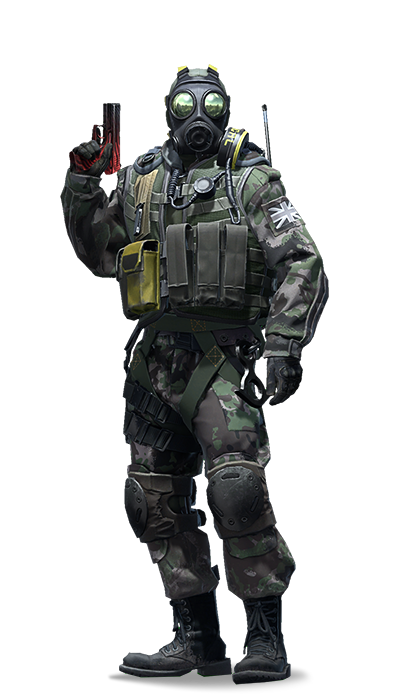 Soldier | Phoenix
Distinguished Agent
A capable shooter recruited by Phoenix to assist with Territory Reclamation Campaigns. Soldiers are extremely deadly alone, and even more so in numbers.
"When do we shoot?"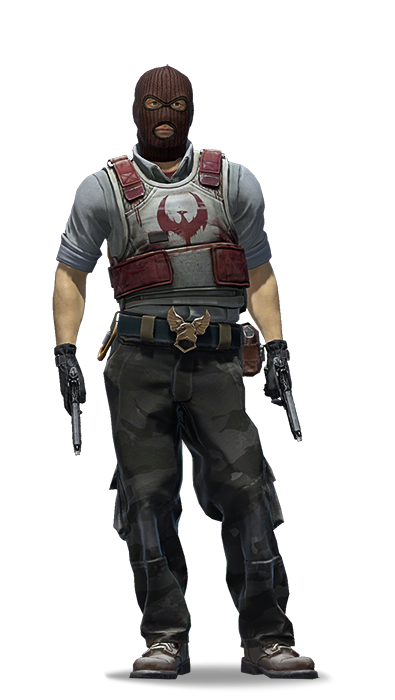 Enforcer | Phoenix
Distinguished Agent
A multidisciplinary contract hitman for the Phoenix Connection. Enforcers don't take all assignments, just the ones they find interesting.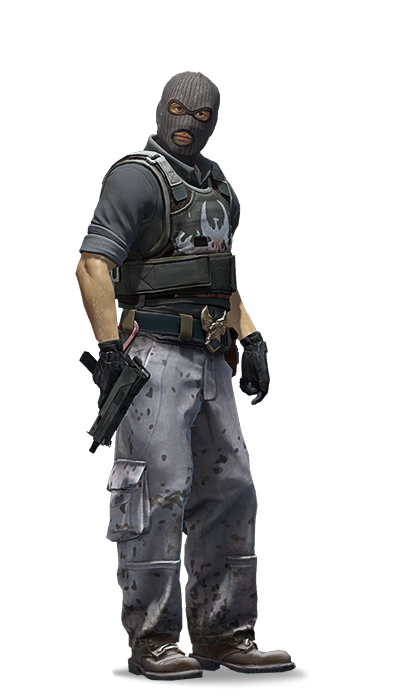 Slingshot | Phoenix
Exceptional Agent
Slingshot is a critical component of Phoenix Connection's dominance in close range combat. Tightly wound and capable of devastating result with little resources, Slingshot earned his nickname after retaking the Phoenix compound with only an M9 Bayonet and recovered weapons.
"If I can knife, I knife."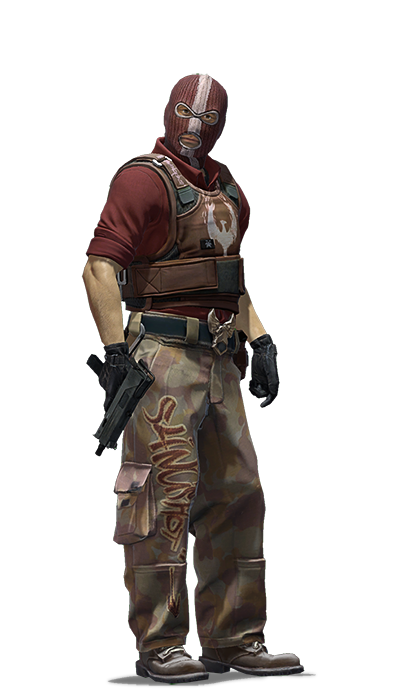 Seal Team 6 Soldier | NSWC SEAL
Distinguished Agent
Combat ready and hungry for wins. Seal Team 6 soldiers know how to get the job done.
"I'm just happy to be here."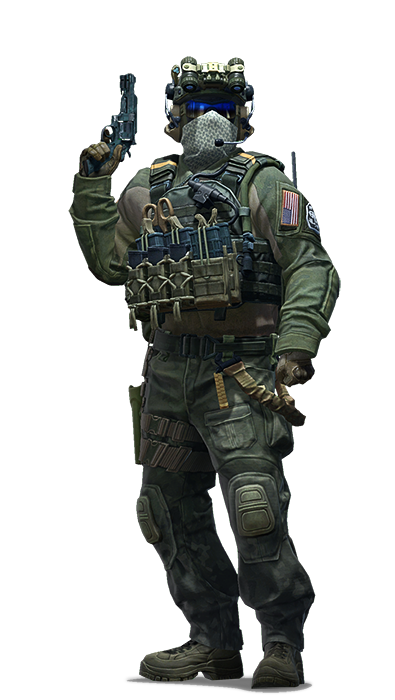 'TwoTimes' McCoy | USAF TAPC
Superior Agent
'Two Times' McCoy earned his nickname by completing TACP's field training twice. Official records mark this up to a scheduling mix-up, but his teammates report restraining him from completing the trifecta. With inhuman reserves of physical and mental stamina, McCoy often finds himself the last person standing at the end of any conflict – physical and verbal alike.
"Yep. Still here."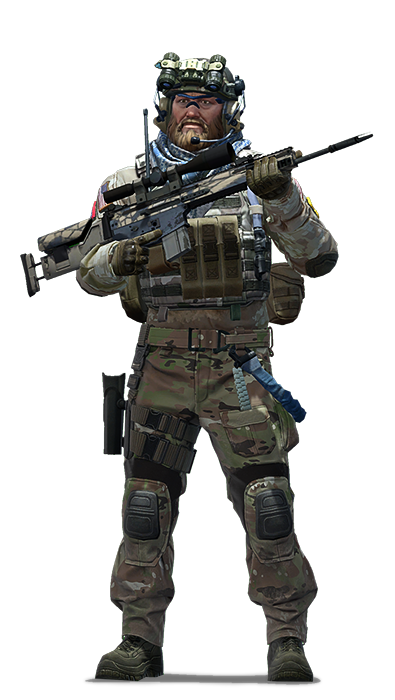 Buckshot | NSWC SEAL
Exceptional Agent
Known as SEAL Team's "Weapon Sommelier" Buckshot has thoroughly field tested and reviewed almost every available military weapon in staggering depth. ST6 relies on Buckshot's knowledge of lesser known guns for edge case advantages in ground based operations, but in the interest of time, the strenuously avoid casual conversation on the topic.
"The talk to me. The guns. They have feelings."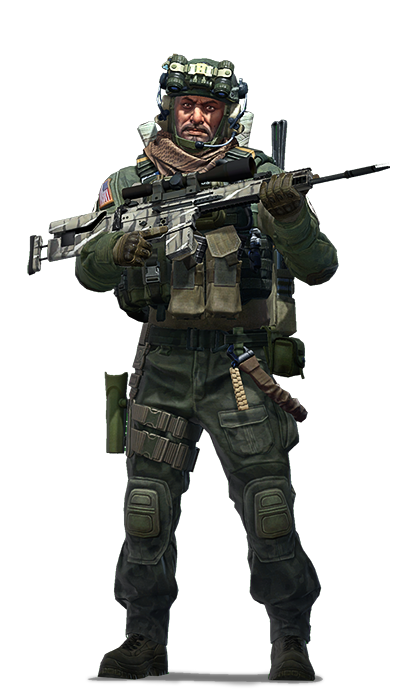 3rd Commando Company | KSK
Distinguished Agent
An elite soldier from Germany's Kommando Spezialkrafte, members of 3rd Commando Company are hand picked to be part of KSK's Operational Forces.
"The is not relevant to the task at hand."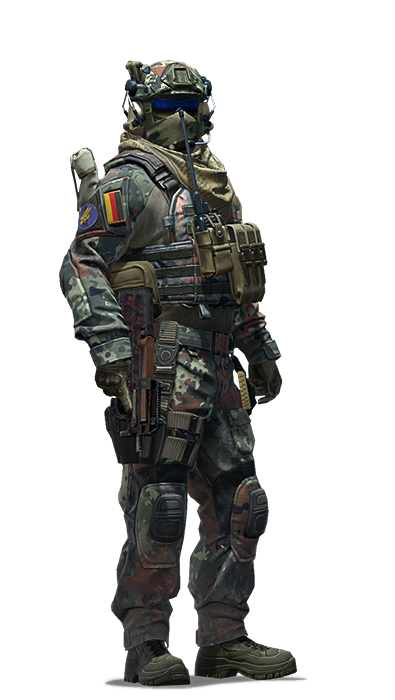 We wonder which one is your favorite model? Let's get this week's mission card going, progress some missions, get the stars and unlock all of the new CT and T side models! When You finish a match, be ready to experience:
New End Of Match Accolades
Yeah! Why not find out who thrown most effective nades, who got most dinks, who got most headshots, who was the overall MVP of the match? It will be displayed at the end of the match with fantastic animated CT and T models. You can even get a trophy for most chickens massacred!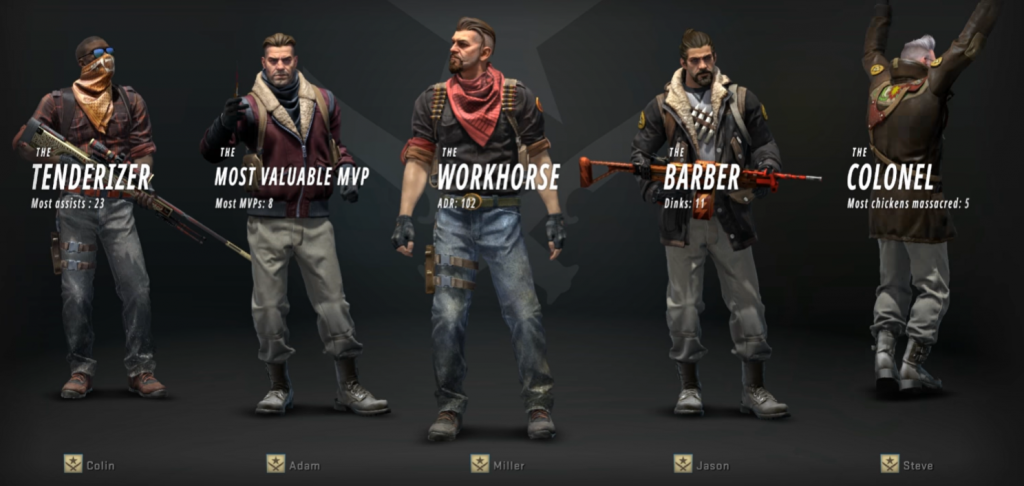 Survival, Nomad, Paracord and Skeleton Knife
So far we counted 15 knives in Counter Strike Global Offensive. Now you can enjoy another four: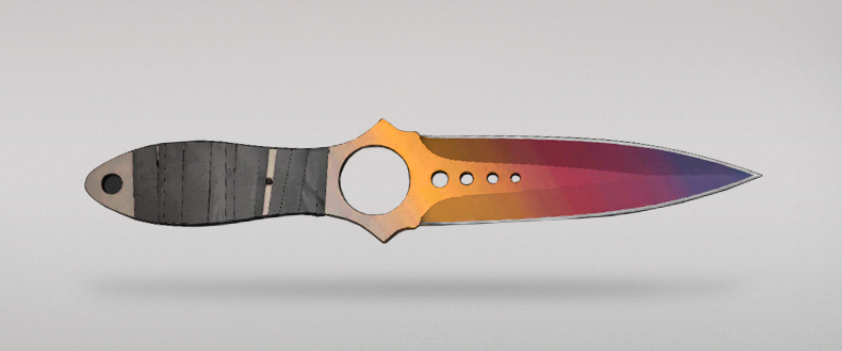 Three New Weapons Collections
We have received brand new three weapons collections with Shattered Web Operation.
The Norse Collection has 18 new skins available.
The St. Marc Collection has also 18 new skins available for us.
The Canals Collection has, surprise, 18 new skins for the weapons!
We have 54 new skins! Feels like early Christmas. Some of them are just epic and will probably cost a house. Like always, it's a good idea to check out best website out there that lists all the prices and is instantly updated with new collections, thanks guys!
New Shattered Web Sticker Collection
You can now collect the all-new stickers that dropped with Shattered Web Counter Strike Operation. They were designed by daniDem and are available only as rewards during the operation. So go crazy with progressing through 6 missions available this week to get them!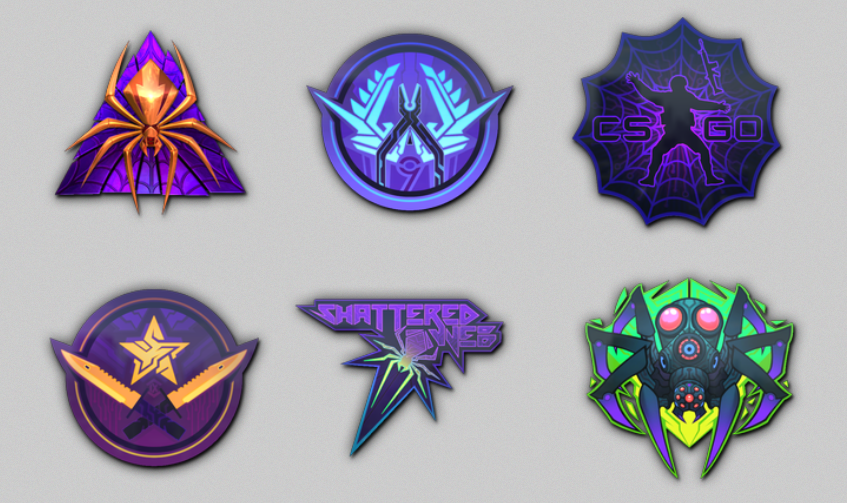 Shattered Web Comes With New Maps: Lunacy And Danger Zone's Jungle
You can get your hands on Lunacy, a dedicated Flying Scoutsman map, which is available during Shattered Web operation.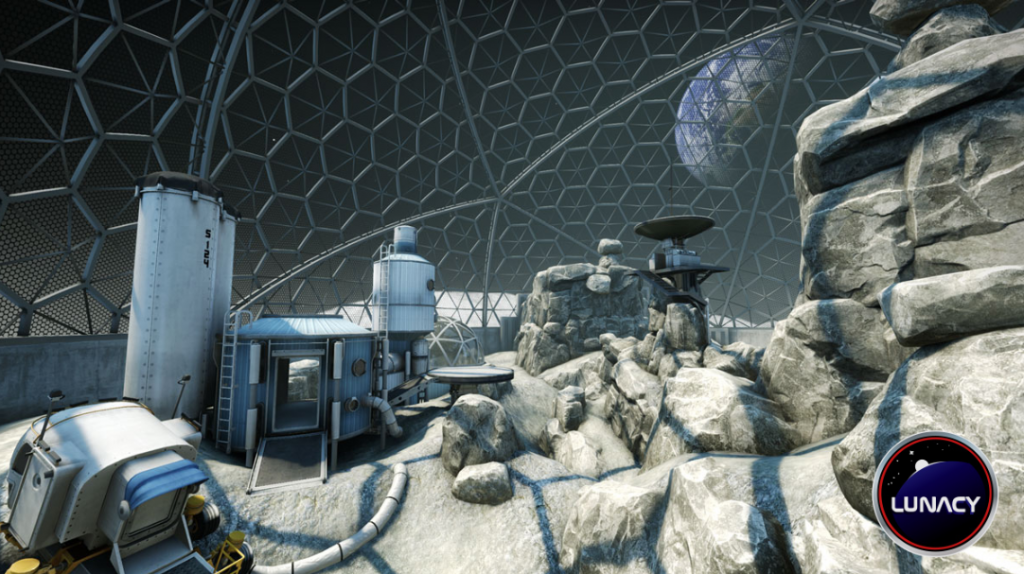 Valve also released new community made map for our beloved Danger Zone mode. It's called Jungle and it's just epic, go try it out!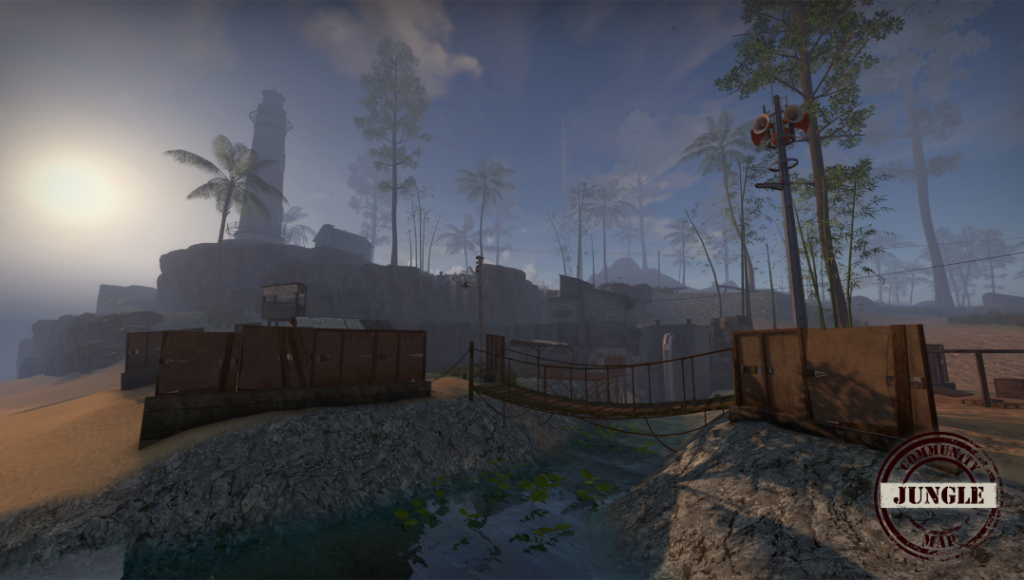 Studio has been added to Scimmage mode and Casual Sigma map groups! This map looks so cool, let's see how it will play out on the servers.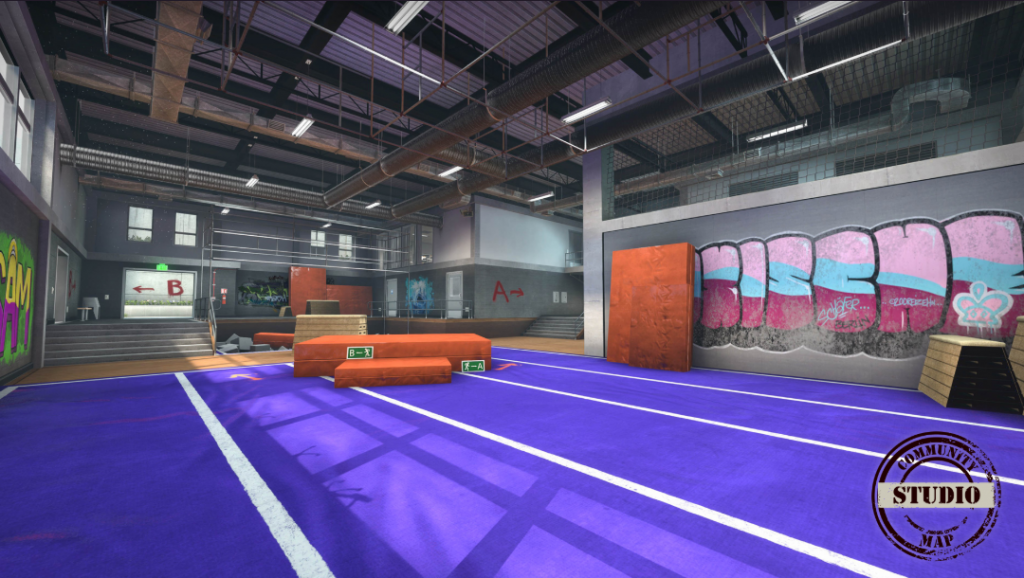 These maps are also available for regular matchmaking games, so it's that time again where you should start a local server and throw some flashes around to get some advantage in casual.
Good luck, have fun!