With the new CS20 update to Global Offensive, we have a chance to get a hold of classic Counter Strike 1.6 knife. You can test the knife in game and see how it feels before you purchase one on the market. You can read more about CS20 and 1.6 classic knife release notes on official Valve blog.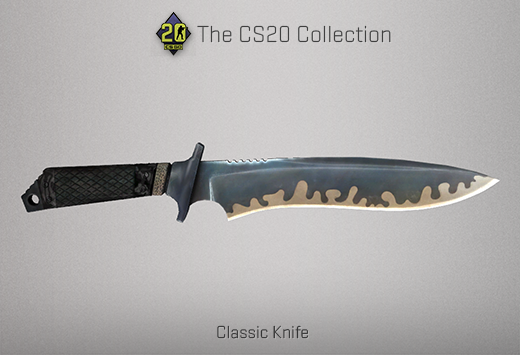 How To Enable 1.6 Classic Knife Tutorial
It's fairly easy. Make sure you have Developer Console enable in the options. You can watch this video or just follow the steps below to reproduce it and enable the famous Counter Strike 1.6 knife.
Console Commands For 1.6 Knife
The Classic Knife can only be used in offline play, so we are only able to start an offline local server to test the knife out. Make sure to have the Global Offensive default knives equipped as this will NOT work with custom knife, if you have one.
Search for default knives and equip both for CT and T side in the inventory
Start local server with bots (Offline Play)
Open Developer Console and execute these commands
sv_cheats 1
mp_drop_knife_enable 1
give weapon_knife_css 
ent_fire weapon_knife addoutput "classname weapon_knifegg"
As you can see, these commands are locked behind sv_cheats 1, so they wil only work in offline play. After testing the knife and disconnecting from local server, Classic 1.6 Knife will be gone.
You can read more about CS20 case with the new 1.6 famous knife and all weapon skins in our previous post.
Have fun!