Stutter Fix For Nvidia Users
Valve has just released an update for Counter Strike Global Offensive, which should help players affected with freezing or experiencing stuttering while playing CSGO. The issues was related to rendering previously unseen content on the map, for example player models, textures and other props.
As confirmed by Valve developer, McJohn, they have changed how certain low level shaders work for all users, including those with AMD and integrated CPU graphics systems. It was common knowledge that the most impacted player base was certainly Nvidia users, but the patch should help everyone.
If you have an AMD or use Intel Integrated graphics (or you play the game on Mac or Linux) and have a chance to try this build–that would be really helpful! You can just opt into the beta build, then jump on your favorite DM server. As long as nothing looks wrong and performance is normal, then things are good! Although NVIDIA users were demonstrably the worst impacted by the problem, we changed how certain low level shaders work for all users.

Source
So far users on Reddit are reporting minor improvements, although some still experience stutter when new players join the servers. Go ahead and test this patch in-game by opting into beta depot of Counter Strike.
How To Opt In Into CSGO Beta
Follow these simple steps to opt in into Counter Strike beta branch.
To opt into Beta depots:
Open the Steam client and navigate to your LIBRARY.
Right click on CS:GO and select 'Properties'.
Click on the BETAS tab.
Select the beta you would like to opt into through the drop down box.
You will be prompted to restart your client. After restarting, launch CS:GO to play the game with its Beta changes.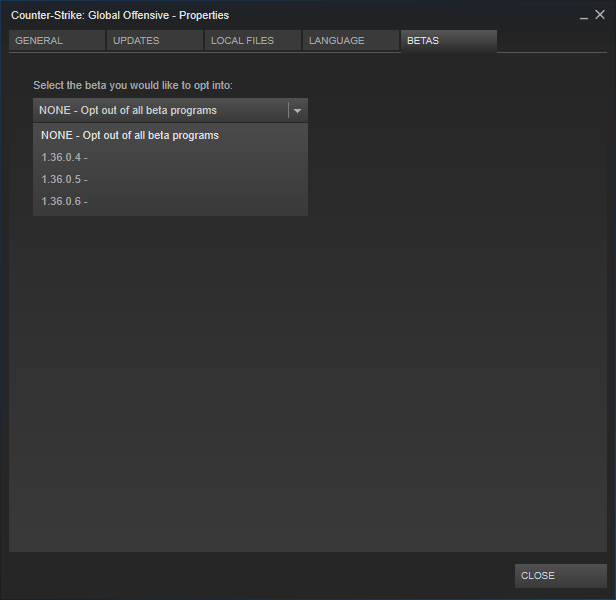 To opt out of the Beta and resume playing the current version of the game, select 'NONE' in the drop down box of the BETAS tab. This will prompt another restart and will require you to re-download the current Public files.
Patch Notes For Nvidia Stutter Fix
[ MISC ]
-Fix for stuttering impacting NVIDIA users when first rendering previously unseen content.
-Speculative fix for rare crash at the end of matches.
[source CSGO BLOG]
Improve CSGO Performance
While we are at the beta depot testing that should help iron out the painful stuttering / freezing issues on Valve official servers, make sure to keep your Counter Strike running as optimal as possible. Have a look at FPS boost guide for 2020. You will find our 22 tips on how to squeeze extra FPS from your CS client.